Going to the Prom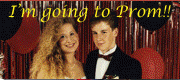 Tonight, I am going to the virtual prom at Sunshine's
and the pursuit of happiness
, and I have a date, my wife,
MJD
. In my town and in my day, it was customary to have a prom for juniors and another prom for seniors. After my Junior Prom , I decided that a rented tuxedo is not necessary for status and a good time.
Last year
, I blogged about my ill-fitting attire for the Junior Prom. For my Senior Prom, I took a new girl, who transferred from a local private high school. Pam was intelligent and lovely. Additionally, I wore my very own suit instead of the inferior rented garb. However, following another tradition, I did buy a wrist corsage for my date. Hoping for a special prom kiss, I brought strawberry-scented lipstick for my date's luscious lips. Sadly, my hopes were dashed; there was no goodnight kiss.
Tonight for the virtual prom, I am wearing blue jeans and a purple polo...times sure have changed since 1962.