Daddy D Says, "No Rented Tuxedos"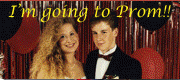 Daddy D decided at a young age never to rent formal wear or tuxedo. He wisely determined that the rented articles fit poorly and are often in disrepair. Mostly, he has fulfilled this promise only wearing a rented tuxedo when asked to do so as part of a wedding party. In this picture, our hero is all dressed up in a rented white sport coat with the ever popular red plaid cummerbund ready to go to the prom with our
gum-chewing Becki B.
According to Daddy D, the pants were too big; the cummerbund slid up and down, and the jacket was ill-fitting. Nonetheless, I think he looked quite handsome at 16 in this formal wear.
Daddy D did have an opportunity to wear rented formal wear one other time. Mutual friends of ours were getting married, and the groom chose morning suits for the men in the bridal party. When the groom and groomsmen picked up the rental suits, the groom discovered that the zipper in his pants was popped. Daddy D's rented pants were a tad short. However, it was decided that short pants for the groom looked better than a popped zipper. Since Daddy D and the groom were of similar size, they traded pants for the ceremony. Here is a picture of the two of us after the reception. My wrinkled too big bridesmaid dress goes right along with the damaged suit pants. Can you tell from the picture that this couple had imbibed a few too many glasses of champagne? I always think that we look
like Mickey and Minnie Mouse.
Sunshine at
and the pursuit of happiness
is sponsoring a Blog prom. Daddy D and I are going to the prom together. If you want to go to the Prom too, visit Sunshine and tell her that you want to go to the Prom. Send Sunshine a picture of you in your prettiest formal or finest tuxedo. Like any memorable event, Sunshine has organized the following schedule. Hopefully, you will show up to make the tissue paper flowers and blow up the balloons. We will all have a grand time at the prom.
Friday, April 27 - we'll be reminiscing about prom theme songs
Tuesday, May 1 - we'll be sharing the lovely or horrible or tragic or hilarious prom memories
Monday, May 7 - submitted prom photos will be posted with links to participating bloggers
Tuesday, May 8 - PROM
Daddy D's prom picture is from May 8, 1961, 46 years before our Blog Prom.